Our meager party began with Sean and his hobbled Sony SMC-777C. The biggest setback was that the machine is intended for analog RGB but we only had the means to hook it up through it's digital RGB output, meaning 8 fixed colors instead of 16 out of 4096 colors. It's still a neat machine! A bit later, Saburo also brought along his own (huge!) collection of SMC-777 software to play around with, making for a great assortment.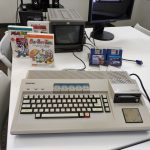 Aside from the digital RGB output, the SMC-777 basically works fine, but it had a bit of a problem accepting a new disk after ejecting. Sean tried to fix that, with arguably some luck.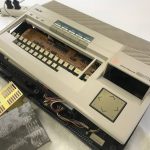 Sven showed up with his Z-80-based computer board project. He and Edoardo did some examination and research on it in preparation for its eventual assembly and use.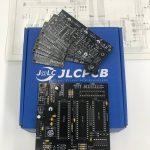 And Andy brought back his X1. He had been industrious in his building of a VGA adapter so we could actually get video output, and he had bought belts for the tape drive to replace, but the tape drive didn't *quite* work. Our team of engineers very precisely looked at it and hemmed and hawed, poked at it accurately a little bit and managed to fudge it into working to some extent! Sean had also brought some of his X1 tapes but we had run out of time troubleshooting so they didn't get played. We did play Machine Gun Joe, though!